Reviews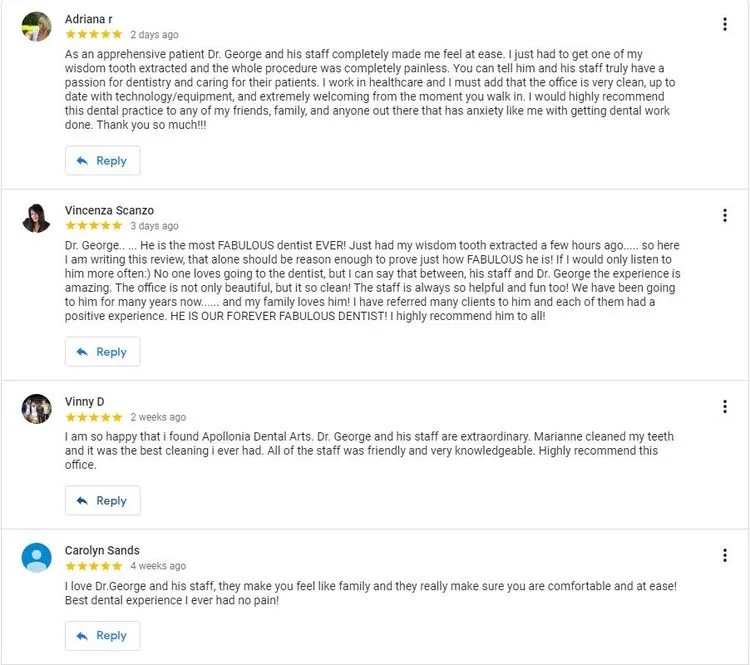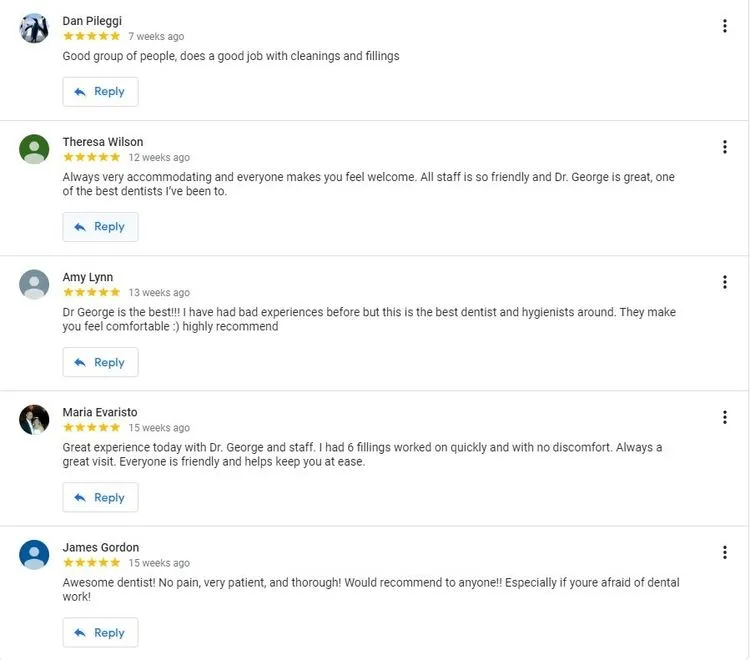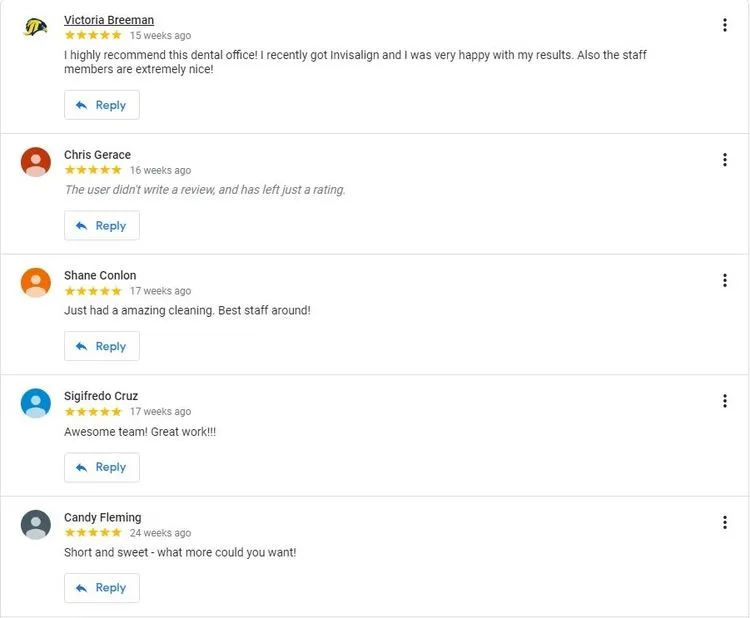 Dr.George not only explains everything he will do and why it is so important to me. Also his assitant was so great when i needed to get the needle before the cavity filling she massaged my shoulder which was enormous help to stop me from feeling it. I have not had a cavity in years. The desk staff are so nice!!! I feel so comfortable. Debra Z.
---
Let me preface this---I've been avoiding the Dentist for many years now. Upon my first visit the staff was very welcoming and friendly. It was exactly explained to me what was going to be done. I was completely nervous but Dr.George assured me that it wasnt going to be terrible! He was right--- I barely felt anything except (some minor jaw discomfort) while he was working on my fillings. Jessica S.
---
So happy to be taken as an emergency new patient! Would highly recommend Dr.George! Quick and painless Root Canal! Michele H.
---
Dear Dr. Athansios, I would like to let you know how incredibly pleased I am with my experience at your office. It is not often I have been so satisfied with my treatment that i have written to convey it- more specificially to my dentist! But I must tell you with consistent and chronic dental issues over the years, I have never had a better experience going to the dentist. Apollonia Dental Arts is not only knowledgeable and progressive in its service, the environment is warm and comfortable from the moment I arrive. Your staff is professional yet friendly and welcoming. With each visit, you and your staff make the process a pleasant one. I couldnt be more pleased with the dental work you have provided. You are a professional who has provided such services as extractions and implants with such care and sensitivity. During the process, you evaluation was honest, giving me appropriate options when necessary. Because of the time you spent reviewing my dental issues, I knew what to expect along the way and what was best for my condition. Throughout my many visits there, you have not only gained my trust in you and your staff but my loyalty as well. There is no question that Apollonia Dental Arts is the dental office I would recommend to both my family and friends. My sincere thanks for your honesty, your professionalism, and your service. I look foward to seeing you soon. Kindest regards, Cliff R.
---
Thank You Dr. George for letting me beable to chew again. The implant process may be long but it was so worth it. I love eating all my favorite foods again. The office staff helped me thru the whole procedure. Dr. George i felt was very knowledgeable. Again Thank You. Paul V.
---
Dr.George, Following a new crown and a thorough cleaning my teeth are in fine shape. Thanks and have a Merry Christmas. Tom M.
---
Thank You Dr.George!!!!!!! You have completely changed my smile, the space in between that was there my whole life is gone. I couldnt be happier. The implants have changed the way i eat, I can finally enjoy all those foods I thought I could never eat again. Your staff walked me through every step of the way and eased my fears. I cant say enough good things about the treatment i received. Thanks again, Dave H.
---
As someone who has always been terrified of the dentist. Dr.George put all my fears behind me. Dr.George and his staff were nothing but professional and friendly. They took excellent care of me and assured me that i was in the best of hands. I highly recommend Dr.George especially who share the same fears as i did. And i will most certainly be returning again. Thank you, Linda
---
I cannot say enough great things about Dr. George and the staff at Apollonia Dental. They are down to earth and look after my needs to make sure I am satisfied. I am always comfortable there. The office is totally refinished and very clean. I went there for the first time several months ago and needed a root canal, and I was amazed at the speed and efficiency of the doctor. I had a one visit root canal with not a piece of pain after the procedure, and a follow up call to see how I was feeling. He has fresh new ideas and the latest technology, and is very fair with payment plans. I look forward to being a lifelong customer and even have my mom set up there as a patient. Don't hesitate; give Dr. George and the staff at Apollonia Dental Arts a try. YOUR MOUTH WILL BE GLAD YOU DID... STEVEN A. WEST MILFORD NJ
---
Two months ago, I walked into this dental office not knowing what to expect. At first the news was very shocking. I had no idea what was going to lie ahead of me, and how I was going to afford this. After sitting down with Dr. George and his team, they came up with a plan for how I was going to have a beautiful smile and at the same time an affordable payment plan. Each appt was easier and easier and thanks to Dr. George and Colleen for always keeping me updated on what they were going to do next. They make you feel so at ease and so comfortable that I could not ask for a better team or would I want to go anywhere else.

Although this is going to take time to get use to, I know its well worth it and I love smiling and the compliments I am getting after one day. Thank you so much for all your support, help and patience!!!!! The Apollonia dental team is amazing!!!!!
Thanks for everything - Stephanie

A child is like a butterfly in the wind
Some can fly higher than others
But each one flies the best it can
Why compare each one against the other
Each one is special
Each one is different
Each one is beautiful
________________________________________________________________________________
"Thank you for taking such excellent care of me. You guys are the best!" - Susan
__________________________________________________________________________________________
Hi Dr. George, I just wanted to say that my experience with oral sedation was very positive. Not only was there no pain involved with my surgery, there was no fear of pain . The pre-surgery medication let me get a good night's sleep the night before. Normally I would have tossed and turned most of the night, worrying about the next day's procedure, starting the day feeling miserable. With the oral sedation, I had none of the anxiety associated with having an extraction; I felt calm before the procedure, slept thru the actual procedure and had very little discomfort when I got home. I think being so relaxed while the work was actually being done is helping the healing process. I would highly recommend oral sedation; it took away the anxiety, fear, and pain of a major procedure. I would definitely use it again. Thank you so much for offering it to your patients. Elaine S.